Membership

Directors
Ray Patsko, Musical Director
Philip Brown, Musical Director

President
Justin Shaffern

Chapter VP Membership
Tom Roberts

Chapter VP Marketing/PR
William Zdancewicz

Chapter VP Music/Performance
Drew Smith

Chapter VP Program
Tom Roberts

Secretary
Frank Tunney

Treasurer
Philip Tuhy

Webmasters
Tom Roberts
Justin Shaffern



Members
John Benzi
Phillip Brown
Jeff Carey
Brian Clark
Jerry Cookus
JD Dabbieri
Anthony D'Angelo
Herb Daniels
Charlie Davenport
Justin Davis
Robert Dingman
David Ehrensperger
George Finnan
Robert Galloway
Ralph Gillespie
John Gilligan
Stewart Girlock
Walter Griffith
Ed Holleran
Harry Howell
Joseph Husty
Thomas Keeney
Charlie Kirkutis
Earl Loch
Jim Maxwell
Frank McCabe
Johnny Messinger
Jack Metzo
James Morpeth
Bryan Newton
Ray Patsko
Ted Rebennack
Jarrett Roan
Thomas Roberts
Albert Rodriguez
David Schooley
Evan Sedor
Joseph Shaffern
Justin Shaffern
Drew Smith
Tom Sommer
Scott Stiles
John Szeghy
David Tosh
John Truscott
Philip Tuhy
Frank Tunney
Louis Volpetti
William Zdancewicz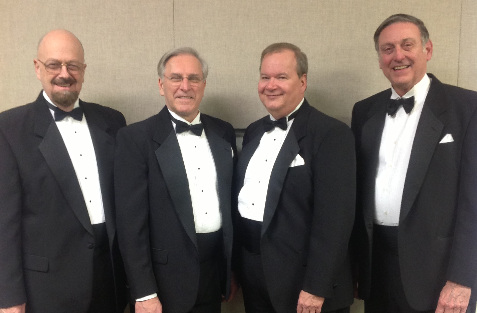 Chapter Quartet - Sounds Abound, Tenor - James Morpeth, Lead - Joe Husty, Bass - Tom Roberts, Baritone - Drew Smith

Using Learning Tapes

Page reprint from
www.barbershop.org
Find more stories like this under Sing and Perform > Singing Skills
Want to learn faster and more easily from learning tapes? These pointers will help!


Learning Notes and Words using a Recording
These days we often work on notes and words by listening to a recording purchased from the Society or recorded at a rehearsal. Sometimes chorus organizations also provide auditory learning aids. Here are some pointers to make this learning method as productive and useful as possible.
Preparation: Cultivate Familiarity
• Care about doing the best you can do. The intention to do well increases the quality of your attention. Attention to the task is a major determiner of success.
• Listen to the selection all the way through in order to get a sense of the whole. Listen for the song's structure, its melodic line, its harmonic pattern, its word meanings, its word sounds, and its emotional content. Imagine body expression that matches what you hear.
• Find an efficient way of returning to the song's beginning point: one song per tape, counting the time to rewind, taping in both directions, etc.
Repetition: Establishing Neural Pathways
• Listen without singing until each note as it comes, is not surprising but expected.
• See the rise and fall of the notes as you hear them. Move your hand up and down to the notes' rise and fall. Watch the music if appropriate.
• When each note is expected before you hear it, start to sing along softly so that the recording predominates. Continue this way until your voice matches the words and notes of the recording. Repeat until every word sound, note and breath is the same.
• Attend to tempo, quality and volume so that the recording is leading your learning and your voice is "inside" the sound of the recording. Follow rather than lead.
• Now start turning the balance control to begin eliminating your part and hearing more and more of the other parts. If your player has no balance control, use a headset and place the earphone away from your ear.
Make Time your Friend
• Work in a time frame of 10-15 minutes at a time. Stay within your attention span time. Work
at it often. Several times a day works well, but don't miss a day if you can help it.
• Recognize that your brain is working on this task unconsciously as well as unconsciously. You will notice progress between session.
• Decide to use as much time as you need. Some are faster, some slower at this skill. Take the time and be content with it. You will probably get faster at it over time.
Other Options to Consider
• Listen to small sections and memorize them one at a time.
• Use the repeat function of a CD player or Mini-disc player.
• Deal with subsequent changes to the original by understanding and accepting the reasons for the change and relating the change to the original.
• Eventually, sing your part while audiating the other parts. (Hearing them in your mind.)
• From time to time, sing with the music to give yourself a visual check.
• Cultivate patience with yourself to persist and achieve success. Set aside any frustrations you might feel and choose to be aware of your own progress.
Contributed by Dr. Dave Anderson for the Gentlemen of Fortune
contents copyright of the author and copyright (c) 10/29/2005 Barbershop Harmony Society